Evis Barber again! It seems that his institution ARA does not know how to stop awarding tenders that are both strange and dubious. It is about the Albanian Road Authority which has decided to open a procurement procedure that contains some elements worthy of SPAK. The icing on the cake is that the winner is the former socialist MP Gazmir Bizhga with a value that goes as much as 99.8% of the tender limit fund.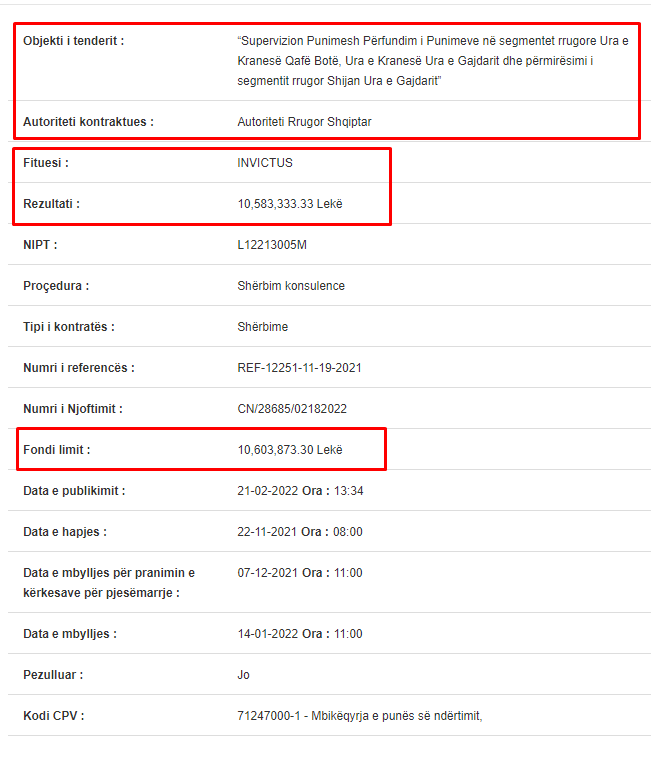 But let's look at the points in turn. It is about the tender with reference number REF-12251-11-19-2021 and with the object "Supervision of Works Completion of Works in the road segments Kranes Bridge Qafë Bote, Kranes Bridge Gajdar Bridge and the improvement of the road segment Shijan Gajdar Bridge" . So basically it is about some form of consulting. For this is meant as a limit fund the figure of 10,603,873 new lek without VAT or about 125 million old lek including VAT. It can be seen that 6 companies participated in the procedure, of which only 3 participated in the other stages of the procedure.
Of these, two companies have offered almost the same values, while the third has offered almost 10 million old ALL less with VAT. Can you find out which of these 3 bids has been declared as the winner? The one with the lowest value? No at all. The exact opposite happened, the company that gave the highest value was announced the winner, respectively 10,583,333 new lek without VAT or about 125 million old lek including VAT. It is about the merger of operators "INVICTUS" owned by Laerta Liko and Andrin Kerpaçi & "GB CIVIL ENGINEERING" owned by Gazmir Bizhga. Does the latter sound like a heard name to you? Well, make no mistake. This person was a Socialist Party MP several years ago. Beautiful or not?