The influence of government on all media platforms aims to show the people of a country in their news applications news that are acceptable and approved from the political group that is in charge.
This influence is so deep, that such interest groups with close cooperation threads, for uniform personal benefits aim to control for their own account the minds of citizens, those who are simply seen as potential votes.
For some time now, social networking platforms have established links with the political agendas of governors and senior leaders of a state. There are ways in which they are depriving people of reading less political news by not letting them getting informed through special algorithms.
These penalizing policies of social networks that aim for the non-distribution of information to the masses, have been tightened and put to the function of the people in power.
By means of manual reports, these people send the information they want to the support of social networks and in this way the information with which the media aims to unmask the government by distributing it to its readers is deleted and in repeated cases the right of speech is removed followind the deletion of media profile in these platforms.
The prestigious media The Wire is in constant war with Facebook for a number of reasons of this nature, where the political content published on their site has been unfairly deleted from Facebook's support in an unfounded and unjustified manner.
But TheWire is the equivalent of JOQ Albania in Albania. For a long time, the largest social media in the Albanian-speaking lands has been the target of continuous paid reports of the army with 500 patronages of the mayor of Tirana and the prime minister, who get paid by citizens' taxes.
A flood of reports towards Facebook and Instagram come every day from the tools of power that feel threatened, and not only aim of silencing the citizens of Albania voice through JOQ Albania, but attacking the investigative work of the media which makes public the corrupt affairs of the government with the money of Albanian taxpayers by which these rulers have provided 7 generations.
The government is so committed to fight the only enemy in this media profile where everyone bows to them for staggering monetary benefits, but not succeeding for years to buy only one.
Like the case of TheWire, which has brought the media giant to court, Facebook and Instagram have deleted some news and posts with irrelevant arguments, totally out of context, considered a violation of the policies of these social networks, attributed to government reporting.
Ironic and at the same time clearly understandable in this case is that the strikes that come by order of the government and are accepted by Facebook and Instagram come in groups, 2-3 in a day without any possibility of appeal.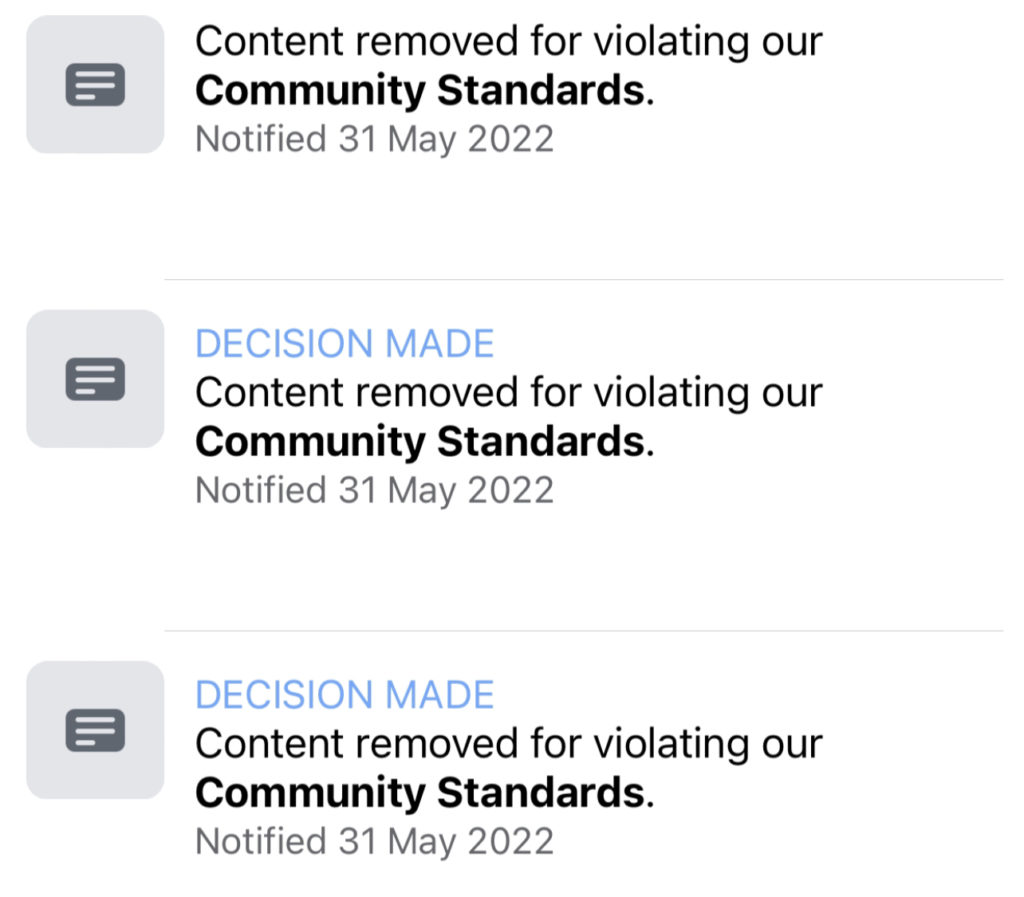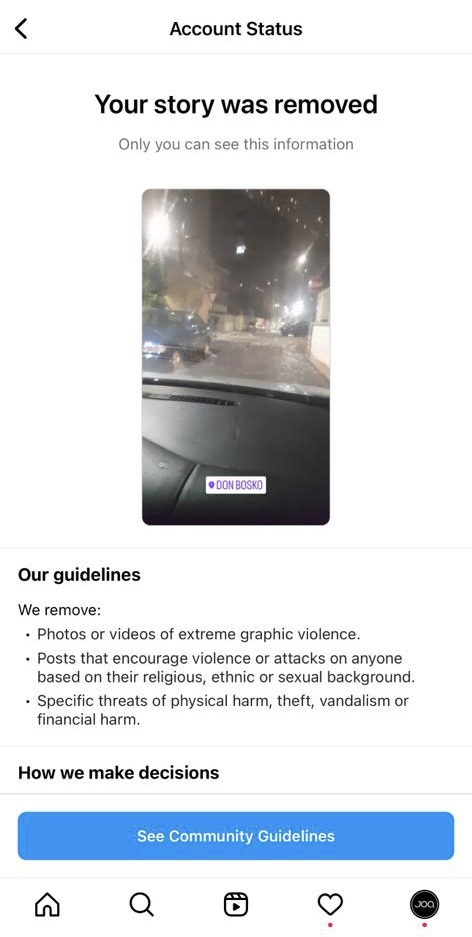 One of these posts surprisingly consisted of a denunciation by a citizen of Tirana about a Tirana road torn apart with giant potholes filled with rainwater. The citizen reported that this was the panorama of Tirana's pits left in that state by the mayor.
Ironically, this story was registered as a violation of Instagram's guidelines for graphic images of physical violence, when in fact the only thing that constituted violence in that post for the eyes of anyone who saw it was the situation in which the mayor who is payed by our taxes leaves the capital.
But despite government alliances with platforms that are supposed to be promoters of free speech, JOQ Albania remains unwavering, giving its maximum in conveying the speech of the citizens massively and denouncing the theft of public money in every sector of the state.
FACT CHECK:
Synimi i JOQ Albania është t'i paraqesë lajmet në mënyrë të saktë dhe të drejtë. Nëse ju shikoni diçka që nuk shkon, jeni të lutur të na e
raportoni këtu
.
HEROI I MUAJIT
KLIKO PËR TË VOTUAR
Qytetari nga Tirana

Qytetari nga Tirana, i cili çdo ditë, shkonte në fshatrat e Tiranës dhe ushqente qentë e rrugës. Ai merrte bukë nga shtëpia dhe shkonte ua hidhte qenve, të cilët gëzonin duke tundur bishtin sapo e shihnin.

Vajza nga Shkodra

Vajza nga Shkodra, shitëse në një market, e cila u përball me dhunën e të moshuarit, i cili godiste pa pushim një qen, me një copë dru në dorë. Sapo pa që qeni po dhunohej, vajza ndërhyri dhe tërhoqi nga bluzja të moshuarin, që dukej që nuk do ndalej nga goditjet ndaj qenit.

I moshuari invalid

I moshuari invalid, i cili, rregullon rrugën e lagjes, pasi Bashkia e Tiranës i ka harruar qytetarët. Qytetari është 'hero' në komunitetin e tij. Kur askush nuk ndjen përgjegjësi, ai bën aq sa mundet vetë.

I riu guximtar

I riu, që pa u menduar dy herë, ndaloi makinën dhe i erdhi në ndihmë qytetarit që u aksidentua në mbikalimin e Selitës, në Tiranë, pak ditë më parë. Makina ishte pothuajse e përmbysur, kur i riu shqeu xhamin e përparmë dhe nxorri nga makina të aksidentuarin. Ai gjithashtu, qëndroi me të duke e mbështetur pas atij aksidenti të rëndë.

Djali i pastrehë

Djali i pastrehë në Lushnje, i cili duke mbledhur kanoçe dhe bidona në një nga koshat e plehrave, gjeti një këlysh dhe po e ushqente me atë pak bukë që kishte për vete. Pavarësisht varfërisë që ai përballej vetë, i riu lushnjar nuk e mendoi dy herë që t'i vinte në ndihmë qenushit. Madje ai e mori atë në shtëpi.

Dy vajza zemërgjera

Dy vajza, të cilat, panë në koshin e plehrave një burrë, që po ushqehej me ç'të gjente aty. Vajzave u erdhi keq për atë që panë dhe blenë ushqim për të.