Scandals have no end in Albania, and as long as the authorities tasked with investigating "sleep", the undone will continue for a long time. Rakip Suli of Kamez Municipality is the next person who continues to do wonders with the tenders awarded by the institution he leads.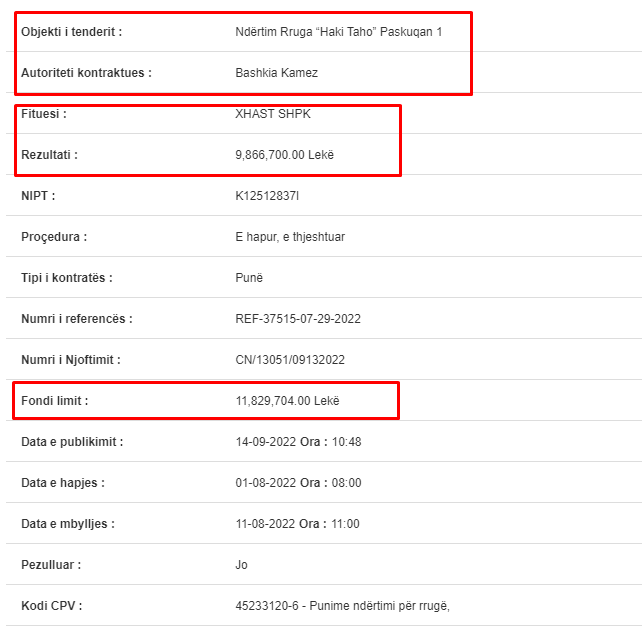 In this particular case, in addition to the irregularities in the tender, the fact that one of the winners has been accused by the prosecutor's office of stealing river gravel is also added. It is about the citizen Hajredin Ukperaj, administrator and owner of the entity DENIS-05. This person was officially accused by the prosecutor's office in 2018 that, together with several other businessmen, he had stolen the gravel of the Shushicë River in Vlora.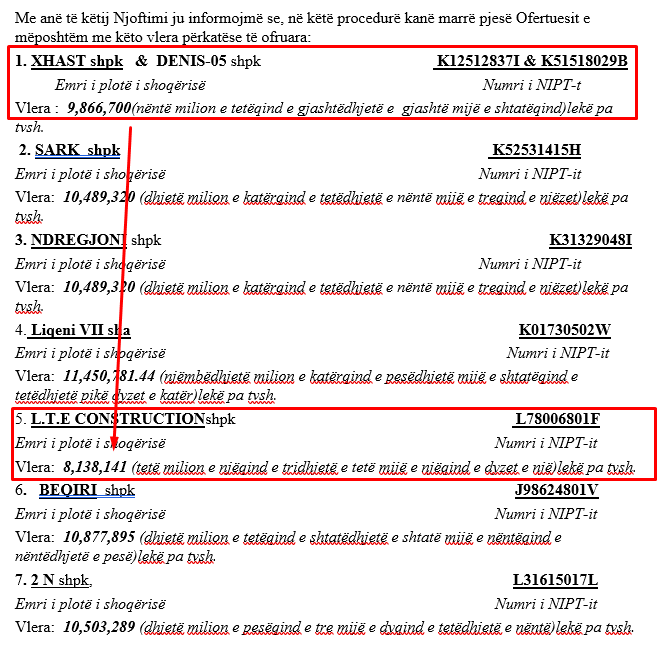 Specifically, the charges against him were three: "Destruction of property by other means", "Forgery of documents" and "Illegal construction". But it seems that this fact did not impress Rakip Suli at all and he did not hesitate to declare him the winner. Not only that, but in fact it turns out that another participating firm offered a lower value than the winner, but was not taken into consideration by the Kamëz Municipality.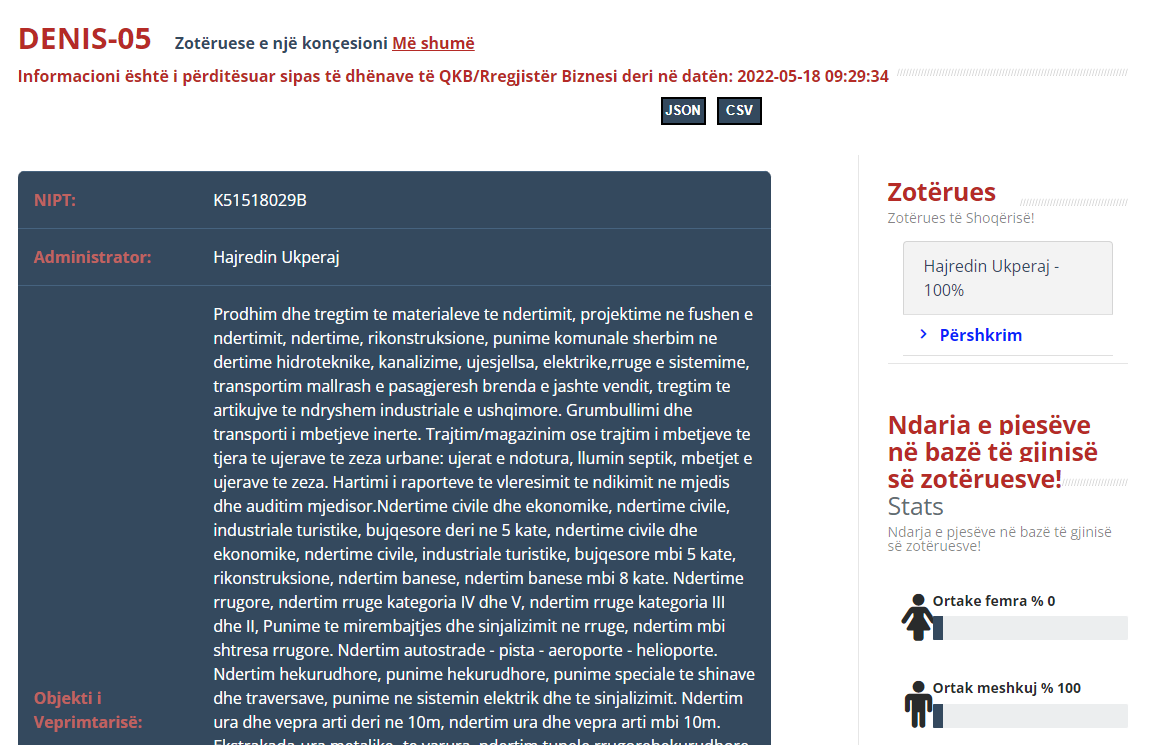 More specifically, it is about the tender with reference number REF-37515-07-29-2022 and object "Construction of "Haki Taho" Paskuqan 1 Road". Its limit fund is 11,829,704 new ALL without VAT or about 140 million old ALL with VAT. 7 firms participated in this procedure, of which, as we mentioned, the DENIS-05 firm owned by Hajredin Ukperaj, which competed together with the other XHAST firm owned by citizen Agim Kraja, was declared the winner. These firms were declared winners for the value of 9,866,700 new ALL without VAT or about 118 million old ALL including VAT.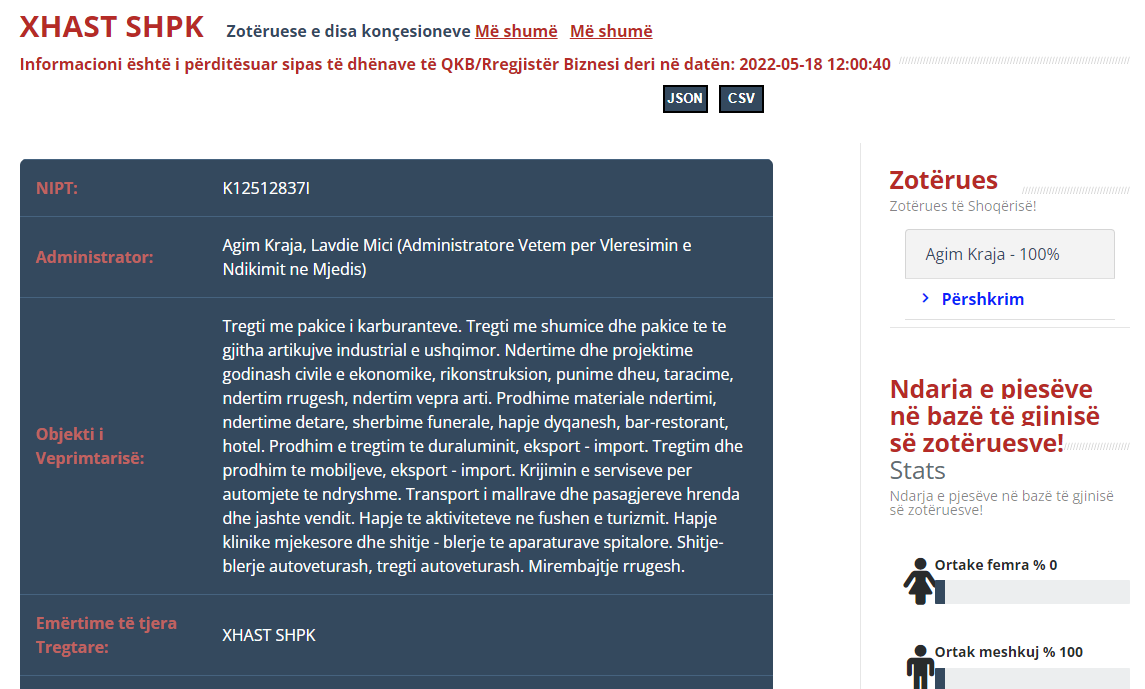 FACT CHECK:
Synimi i JOQ Albania është t'i paraqesë lajmet në mënyrë të saktë dhe të drejtë. Nëse ju shikoni diçka që nuk shkon, jeni të lutur të na e
raportoni këtu
.
HEROI I MUAJIT
KLIKO PËR TË VOTUAR
Leli Alushaj

Leli Alushaj, kamarieri i një restoranti në Tiranë, i cili me ndërhyrjen e tij të shpejtë i shpëtoi jetën një turisteje spanjolle, teksa ajo po mbytej.

Robert Neçaj

Roja bregdetare, i cili shpëtoi nga mbytja në plazhin e Shëngjinit dy persona, motër e vëlla, teksa dhe vetë përfundoi në spital. Ai u dëmtua shumë gjatë aksionit të tij të shpëtimit, por sot, fatmirësisht gëzon shëndet të plotë.

Andi

Roje bregdetare në Sarandë, i cili shpëtoi nga mbytja, babë e bir. Pamjet se si ai nxirrte nga uji babë e bir u bën virale dhe u shpërndanë edhe në faqet e JOQ ALBANIA.

Djali i mitur

Djali i mitur, që shet lule pranë qendrës së Tiranës, për të siguruar libra dhe rroba për shkollë. Ai ulet në trotuar dhe u kërkon qytetarëve që të blejnë lulet e tij.