Of course, the temperatures of the last few weeks have been extremely high and often unbearable. But as if this was not enough, the heat has been increased even further by the assassinations and murders of recent times that it seems that no one is taking measures to stop them. And in fact, it seems that justice has its mind elsewhere and not at all to bring criminals to justice. The Minister of Justice Ulsi Manja seems to have other problems on his mind these hot days, as it turns out that he has spent a full 140 million lek of the people's money to freshen up the rear in the premises of the ministry he leads.
So the panorama is clear, the people pay taxes for the Minister of Justice to spend their money not to protect them or to bring justice to the country, but to cool off with air conditioners on these hot days. Thus it is about a tender with reference number REF-32851-06-14-2022 and with the object "Supply, installation of chillers for the building of the Apparatus of the Ministry of Justice". Its limit fund is 12,020,032 new ALL without VAT or about 140 million old ALL with VAT.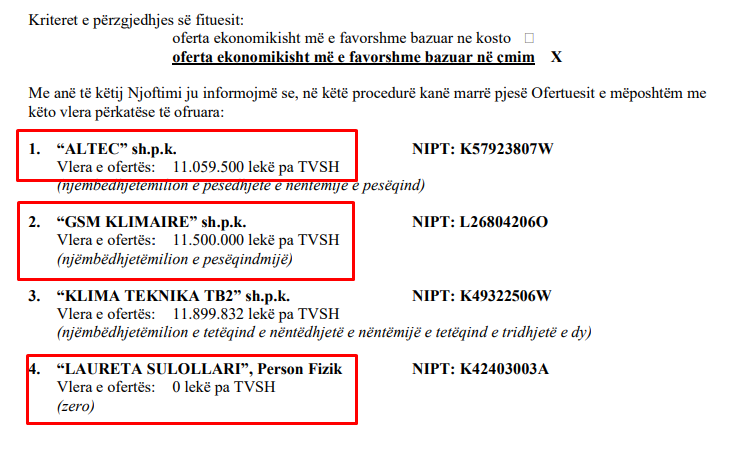 Studying the relevant documentation, it is noticed that the winning bid was not announced as the one with the lowest price. The GSM KLIMAIRE company, owned by citizen Genci Muçaj, was declared the winner for the value of 11,500,000 new ALL without VAT or about 140 million old ALL with VAT. But another company has offered about 6 million old ALL less, which is not a small value in an air conditioner tender. Doubts about the tender are also added by the fact that another company participating in the competition has offered zero value, i.e. no offer. Finally, the winning value turns out to be almost identical to the limit fund of the tender, namely 95.67% of it.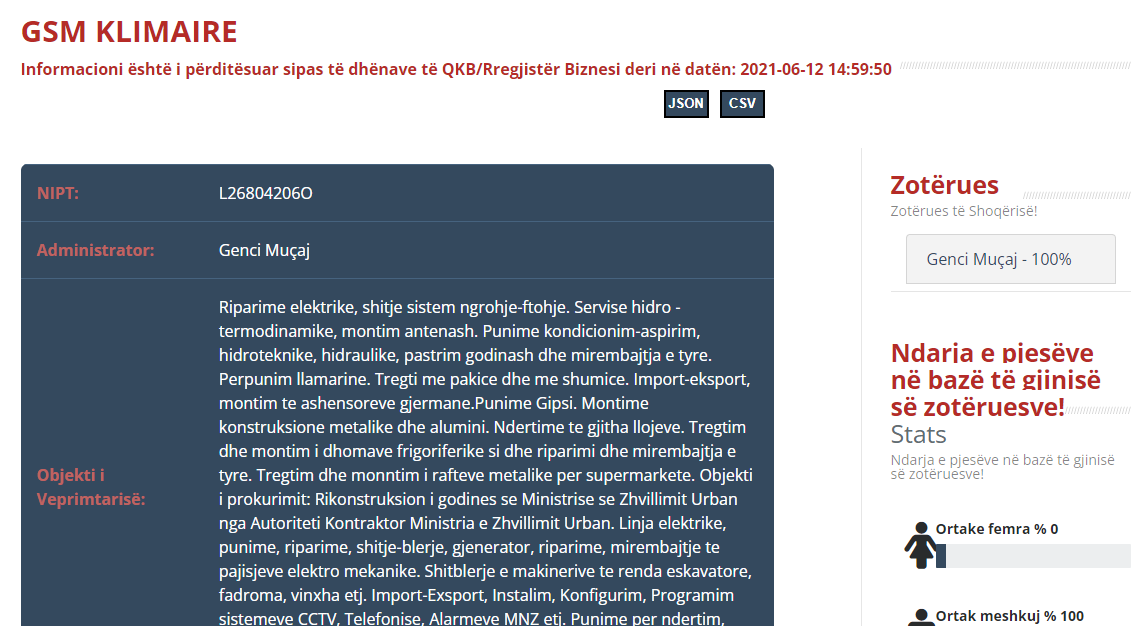 FACT CHECK:
Synimi i JOQ Albania është t'i paraqesë lajmet në mënyrë të saktë dhe të drejtë. Nëse ju shikoni diçka që nuk shkon, jeni të lutur të na e
raportoni këtu
.