The tender that we will present to you today is really scandalous and if the investigation bodies and justice functioned properly in Albania, Veliaj and Maznik would end up in handcuffs. But you know that this will not happen, as SPAK seems to sleep more than Lulzim Basha. It is about the procurement procedure with reference number REF-16038-12-21-2021 and with object "Reconstruction works offices and Don Bosko square". The tender limit fund is set at 66,964,620 new lek without VAT or about 800 million old lek including VAT.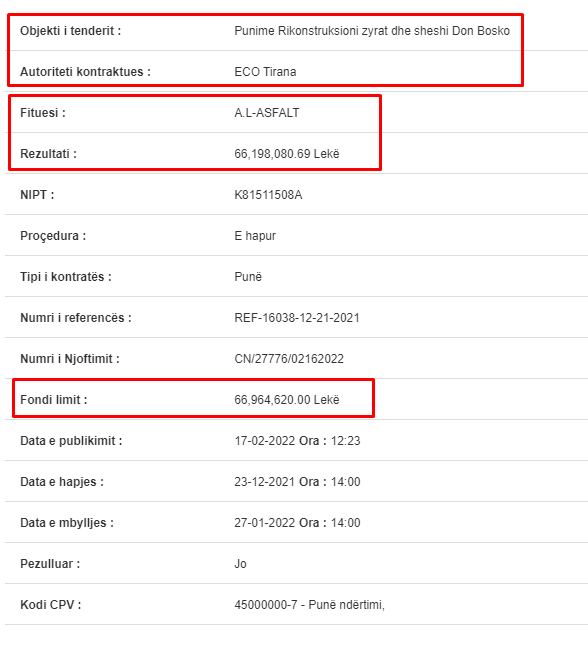 The tender was opened by the company ECO TIRANA in co-ownership of the Municipality of Tirana and AGSM Holding ALBANIA, where the Municipality of Tirana owns 51% of the shares. Administrator of ECO TIRANA was Arbjan Mazniku who surprisingly in June 2021 resigned from the post of member of the Board of Directors. Without mentioning at all the alleged links of this company with the mafia organization "Ndragheta", this tender is very dubious to the point of scandal.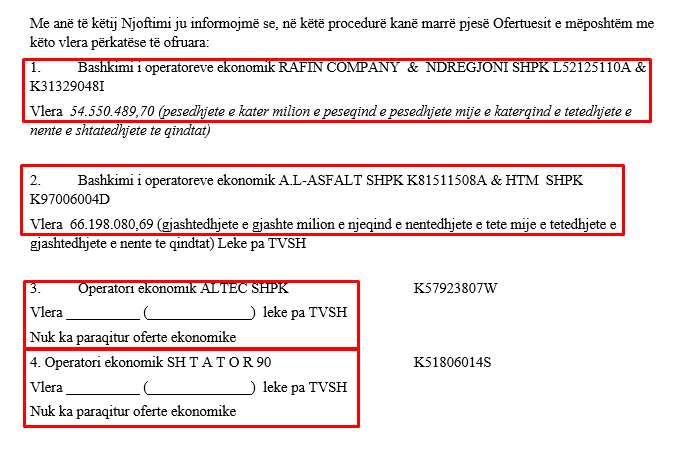 We say this because 4 companies participated in this tender, of which two offered zero ALL. So imagine a little. Two companies have taken the trouble to enter the competition in a tender with a limit fund of almost 1 billion ALL, but have decided not to bid. At a time when the total number of competitors has been 4, it means that 50% of participants have offered zero ALL. Then why did they participate? We want to know that too, but most likely no one will answer. However, it does not matter, as it is assumed that these two companies participated simply for the sake of numbers and to create the false idea that there was competition.

Meanwhile, from the other two remained companies, the winner has been announced the one that has offered the highest value. Absurd or not? In a normal country, yes, but not when it comes to Albania. Even the difference between the two firms is almost 140 million old ALL with VAT. At best, this money is a net loss of Albanian money. In conclusion, the winner was announced the union of operators A.L-ASFALT SHPK owned by citizens Astrit Varaku and Luan Mema & HTM SHPK owned by the citizen Ilir Tabaku. It is worth mentioning that the value offered by them is 66,198,080 new lek without VAT or about 800 million old lek with VAT. This figure is almost identical to the limit fund, namely 98.85% of it. Does SPAK need anything else to investigate?