Durrës Port Authority has recently started to conduct many tenders that are classified as suspicious due to the procedure of their development and the manner of announcing the winner. Pirro Vengu, the director of this institution, seems to have not neglected such tenders and again rolled up his sleeves and "entered the lucrative business" of dubious tenders. Thus, it turns out that the Durrës Port Authority has developed a procurement procedure that bears the reference number REF-99068-06-24-2021 and has as object "Implementation of the project for modular offices for customs agencies".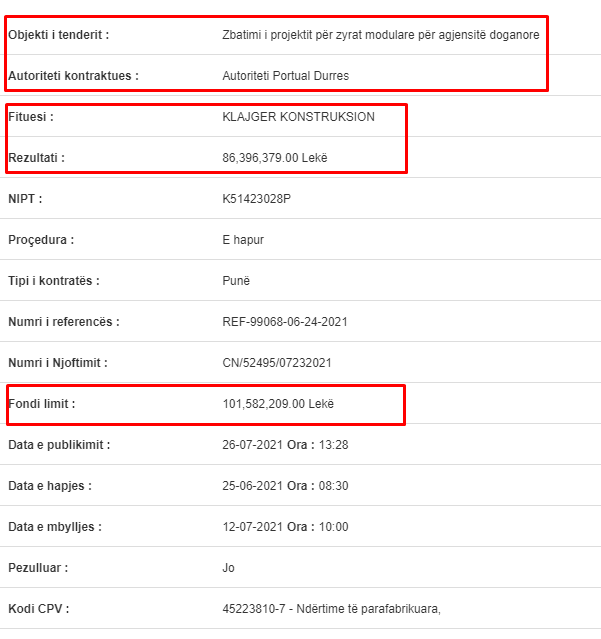 It can be seen that in this tender have participated three companies, "EURONDERTIMI 2000" LLC with offered value 74,931,048 new lek without VAT, "KLAJGER KONSTRUKSION" with offered value 86,396,379 new lek without VAT and "LEON KONSTRUKSION" with a value offered of 90,263,856 new lek without VAT. The winner was the company "KLAJGER KONSTRUKSION", but surprisingly it turns out that this company did not offer the lowest value. Even its offer with the offer of the firm that offered less is not in small figures but goes to almost 140 million old ALL with VAT.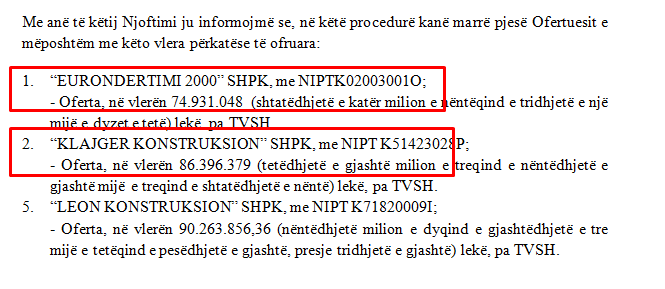 However, beyond this large difference of almost 140 million ALL, the winner is the company "KLAJGER KONSTRUKSION" owned by Sadik Lumi. Even comparing the figures with the tender limit fund, it is noticed that the declared winning value is as much as 85% of it. Both of these issues, are signals for suspicions that the winner was predetermined, making Pirro Veng worthy of consideration by the SPAK.